Pavers are Forever
Pavers are one of our primary specialties at Angels Landscape, Inc. Warm and elegant, yet durable, pavers have been used to beautify cities and residential homes for over 2,000 years. We can show you how to transform your residential or commercial space into an eye-catching design that is both functional and everlasting.
We use pavers to craft driveways, walkways, decorative steps, retaining walls and raised-planter boxes which can double as seating areas with the right height and cap. We also recommend pavers for pool decks, pool coping, pilasters, columns, fire pits and barbecue islands.
Angels Landscape, Inc. provides quality paver installation to avoid sinking. We prepare our areas of installation with a compaction rate of 95% (as hard as concrete) and crack free. In the rare event a paver should crack, replacement is quick and inexpensive, unlike concrete.
Process of Installing Pavers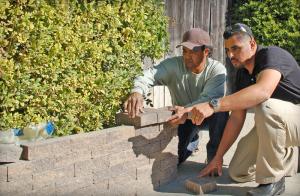 Preparation: We work to prepare the base area according to the type of traffic the pavers will be used for. This preparation is accomplished by excavating the existing soil and replacing it with type II road base which is compacted slowly, layer by layer. This slow compaction is done to ensure pavers will last for a very long time.
Leveling: In order to level the area, we use a fine grit sand to ensure the area is completely level before laying the pavers on top.
Installation: The edges of each paver are grouted onto a concrete footing that is then reinforced with re-bar to ensure the pavers don't drift or move. Our professional and experienced team works with a great attention to detail and performs precision cuts for an exact fit. All pavers are aligned perfectly in the specified pattern and then the area is swept and cleaned of any debris. Masonry sand is then used to fill in all of the joints.
---
Contact Angels Landscape, Inc. today for more information on turning your paver dreams into a reality! Please visit our image gallery in the design center for additional images and past projects.